From 15 to 18 November 2022 in Hanover, Germany – world's leading trade fair for animal farming and livestock management – Guiding theme: "Transforming Animal Farming"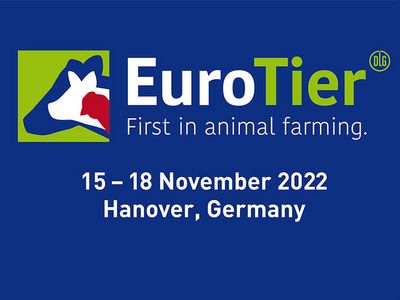 (DLG). "Transforming Animal Farming" – this is the guiding theme of EuroTier 2022, reflecting the changes currently embracing the livestock sector, The EuroTier trade fair will take place from15 to 18 November 2022 at the Hanover Exhibition Grounds and will be supported by an additional digital offering. The organizer DLG (German Agricultural Society) is placing the trade fair's technical program of the world's leading trade fair for animal farming and livestock management under the guiding theme of "Transforming Animal Farming". The focus is on animal welfare, animal health, sustainability, emissions, genetics, husbandry, feeding, digitalization, management, processing and direct farm sales.
Transformation in the livestock sector
The national and international livestock sector is undergoing a transformation. A range of topics are shaping the current developments – animal welfare, sustainability, biodiversity, climate change and global food security as well as production efficiency and marketing strategies. These factor influence changes in production and value chains as well as societal and environmental demands on livestock farming.
"In this challenging environment, livestock farmers need new perspectives, strategic approaches and the right technologies more than ever, in order to be able to successfully address the changes in the industry. as the world's leading trade fair and leading professional platform, EuroTier plays a decisive role in offering the relevant innovations and solutions for farmers, farm managers and companies," explains Ines Rathke, EuroTier Project Manager, describing the central importance of EuroTier for international livestock farming.
Innovation platform of the global livestock sector
As an innovation platform for the global livestock sector, EuroTier offers a complete overview of innovations and established standards. The trade fair presents solutions for cattle, dairy, pig and poultry production. Additionally, The topics of sheep and goats, boarding horses, aquaculture, alternative proteins and direct farm sales round off the exhibition and trade programme. The trade fair portfolio includes products and services for the entire value chain for the production of food stuffs of animal origin. This includes the areas of genetics, feed, husbandry systems, climate and environmental technology, milking and cooling technology, manure removal, transport, operating resources, accessories, processing, marketing and services for agricultural production.
High-calibre international technical program
Under the guiding theme "Transforming Animal Farming", the DLG, together with national and international partners, will present a high-calibre technical program with a large number of events and conferences on the current focus topics of the animal husbandry sector. The cattle/dairy, pig, poultry and aquaculture spotlights will be dedicated to industry-specific topics such as animal welfare, animal health, sustainability, emissions, breeding, husbandry, feeding, digitalization and management. The spotlight on direct farm sales will focus on the topics of processing and marketing. A new focus in the feeding section is the prospects for alternative protein sources.
New: Platform for startups
New at EuroTier 2022 is the dedicated start-up area "DLG-AgrifutureLab" for newly-founded innovative companies. This prime location within the trade fair allows both national and international company founders to launch their presence prominently, attracting plenty of footfall. The German Ministry of Food and Agriculture (BMEL) supports the participation of German startups at the trade fair.
Additional digital offering
In addition to the trade fair appearance in Hanover, the world's leading trade fair for animal farming and livestock management exhibitors and visitors an additional digital service on the "DLG Connect" platform (www.dlg-connect.com), an interactive online platform developed by DLG as part of its objective to further knowledge in the international agricultural sector. Already over 500 individual virtual events have been held at this platform including DLG's in-depth Spotlights on emission control in livestock farming as well as virtual visits to pig and dairy farms.
Exhibitors can use this digital platform to deliver information about their products and innovations in order to optimize their preparations for the trade fair. The platform offers visitors the opportunity to network with exhibitors in the run-up to EuroTier thereby benefitting from the latest specialist information
Optimal exhibition complement: EnergyDecentral
EnergyDecentral takes place in Hanover alongside EuroTier. The international trade fair has established itself as the leading platform for decentralised energy supply. Covering the entire value chain of sustainable energy production: Resources, energy production and smart energy, EnergyDecentral is thus an optimal extension of the specialist range of EuroTier.
www.eurotier.com